Tips For A Mayfield Kitchen Remodel 
A 518 Kitchen Remodel can quickly turn into a major headache if you are not prepared. Between coordinating with contractors and unexpected building issues, your renovation can become far more pricey at a moment's notice. We've created a list of essentials to consult before undertaking a Mayfield Kitchen Remodel. Check out these 3 tips:
Mayfield Kitchen Remodel Essentials
There is no denying that the aesthetic side of a kitchen remodel is often at the front of a homeowner's mind. Try to be pragmatic when it comes to a space like a kitchen – there are safety elements that should be prioritized during a remodel. Be careful not to overlook important elements of your space such as smoke detectors, ventilation, fire escapes, etc. In fact, do yourself a favor and use this post as a reminder to test your current smoke/safety alarms!
Speak with your contractor and create a plan to implement the safety essentials in your new kitchen. Ensure your kitchen renovation results in the safest space possible!
Buy Used To Save Big
Brand new furnishings are sure to take a toll on one's wallet. You can save big for your kitchen remodel by buying secondhand (allowing you to spend the money elsewhere)! Repurposing wood for countertops is a great way to save, and there is an endless supply of how-to videos on Youtube to help you with your project. Not only can you save money, but you also have a fun and simple project. It is easy to find functional, used appliances in your area if you know where to look. Use Facebook and/or Craigslist to find second-hand appliances such as ovens, microwaves, and refrigerators.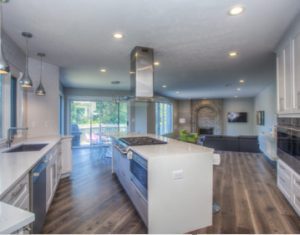 Make Your Space Usable 
Make sure your kitchen remodel does not end up a 'form over function' scenario. The new space you are envisioning may have the aesthetic you are looking for, but will it suit your everyday needs? A kitchen is ultimately one of the highest traffic areas in the home – make sure the space is usable. The perfect kitchen should have space to function as a work and living space!
The Bottom Line
For the unprepared homeowner, a kitchen remodel can be a lot to handle. Hopefully, these tips will help you achieve your dream kitchen. 
The best way to ensure a perfect kitchen remodel is to hire the best team! For the best 518 Kitchen Remodel, call 518 Renovations today. They provide Kitchen Renovation and remodeling for Kitchen Remodel Gloversville or Kitchen Remodel Johnstown, Kitchen Remodel Broadalbin or Kitchen Remodel Mayfield, Kitchen Remodel Fonda, Kitchen Remodel Amsterdam, and all the way to 518 Kitchen Remodel Fulton Country. Get in touch now.