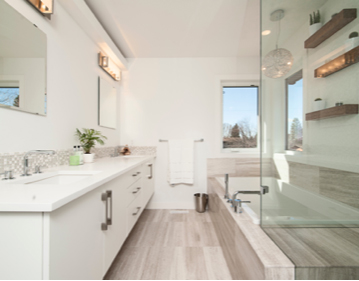 Tips for Commercial Office Remodeling and Renovation
Your office workspace tells a lot about how you manage your business. Whether you need more space for a new expansive office or maybe you want to build an interactive area for your employees to have a collaborative work environment, planning an office remodeling or renovation requires a team effort.
Not only that, a well remodeled and renovated office is one of the few factors that can boost your staff's productivity. Every establishment owner should ensure their employees have a safe and comforting workspace. From the appropriate lighting to the room's temperature, you can have more control over how well your employees perform than you realize. Here are some helpful tips you can gather to guide you on your office remodeling or renovation project;
1- Focus on Your Goals
First, you need to set your office interior goals. It would help if you asked yourself some questions before starting. What do you hope to gain out of the new space? Will the value be maximized? It would be best to determine why it is necessary to do these renovations right now. Ensure that the design you choose will match your company's aesthetic. At the same time, it must provide an image of professionalism to both your employees and customers.
2-Look For Qualified Designers and Contractors
Searching for the right personnel for your remodeling and renovating project is one of the critical steps. It is always essential to find people who work well together since they will collaborate throughout. Before hiring a commercial renovation contractor, you will need to see portfolios. You can ask for a list of references to get a better sense of quality. You also need to make sure the construction team has its insurance plan, or else you are liable for any injuries.
3-Evaluate Your Building
Once you have completed the team responsible for remodeling or renovating your office, don't start the construction until you have professionally inspected all the areas around your establishment. You should check all sides for any signs of mold, asbestos, lead, and any other high-risk elements that may be hiding underneath the walls of your establishment. You should also evaluate your plumbing, electrical wirings, mechanical systems, the state of your walls, and others that you can quickly check with the help of a recessed fire-rated access panel.
4-Discuss Your Renovation Project
The budget is one of the most challenging issues for an office remodel or renovation. One recommended strategy is to have your senior management team carefully look over the projected budget for your project to avoid spending more capital on your upcoming office space renovation than your company can afford. You should also increase your budget up to 10% for any emergency expenses that may arise.
5-Designing Your New Office Space
Once you evaluate your office space, it's time to get your design team in shape! Tackle again your office goals and what you want to achieve, and let the experts bring your ideas to life. Explain thoroughly what you and your team's ideal office is, and the professionals will recommend some designs that will fit right into your targeted budget. 
6-Permits
After planning out the new layout of your office, it's time to do some paperwork. Remodeling or renovating can be a disturbance to your neighboring establishments, which is why you should always get a permit to avoid any conflicts that can lead you to trouble. Permits are not simple and can take a substantial period to obtain from your local government offices. Ensure adequate budget time for finding the ideal papers for your upcoming remodel project. 
7-Establish a Realistic Schedule
Your remodeling contractor will provide you with a tentative timetable of how long your project will last. Ensure that you will hire someone who keeps you updated on the progress every step of the way. Delays within the project are inevitable, so make sure your business can handle being hindered by that duration.
8-Avoid Doing Everything At Once
You might be too excited to witness your newly renovated office, but it may not be possible to do every task at once. If you only have enough budget, you should focus on the essential improvements for your office space. 
Preparing your remodeling and renovation project is vital to avoid any unwanted mishaps and delays that can cost you more money and alter the results of your projects. Hiring 518 Renovations professionals that can help you decide the suitable designs for your office is always a wise decision.