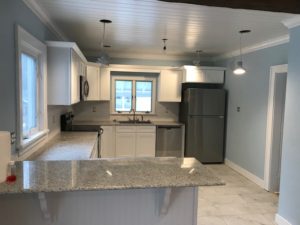 Thinking About A Northville Kitchen Renovation?
Between dealing with one or more contractors, unforeseen remodeling issues, and unexpected issues in general, a Northville Kitchen Renovation can quickly turn into a stressful situation if you are not prepared. 
Below is a list of kitchen renovation essentials – check it out before undertaking a 518 Kitchen Remodel:
Purchase Pre-Owned 
If you are looking for an easy way to save money on your kitchen remodel, consider purchasing pre-owned appliances. Buying second hand is a simple way to save, leaving you with the freedom to spend that money on other elements of the remodel. Between Google, Facebook, and Craigslist (to name a few resources) It is simple to find functional, pre-owned appliances near you.
By the same token, DIY projects such as repurposing material for countertops can be an easy way to save. Youtube is your best friend when it comes to DIY projects – there is a close to infinite supply of how-to videos/articles to aid you with your projects.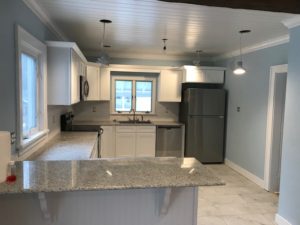 Northville Kitchen Renovation Necessities
Let's face it, making your kitchen an impressive, beautiful space is at the forefront of most renovations. However, you should try to prioritize usability when it comes to a remodel! Likewise, do not overlook the safety elements of your space – things such as smoke alarms and ventilation should be discussed with your contractor in order to make your space as safe as possible. Speaking of, go ahead and test your current smoke/safety alarms while the idea is fresh in your mind.
Work together with your contractor to design a plan that includes the safety essentials in your new kitchen – make your kitchen as safe as possible!
Prioritize Usability 
Again, don't be so focused on aesthetics that you forget to make your kitchen usable and livable. At the end of day your new space MUST suit your everyday needs, especially since the kitchen is one of the most used areas of a home. The perfect kitchen should have space to function as a work and living space, be sure to work with your contractor to ensure your Northville Kitchen Renovation results in a gorgeous, usable kitchen.
The Bottom Line
For the unprepared homeowner, a kitchen remodel can be a lot to handle. Hopefully, these tips will help you achieve your dream kitchen. 
The best way to ensure a perfect kitchen remodel is to hire the best team! For the best 518 Kitchen Remodel, call 518 Renovations today. They provide Kitchen Renovation and remodeling for Kitchen Remodel Gloversville or Kitchen Remodel Johnstown, Kitchen Remodel Broadalbin or Kitchen Remodel Mayfield, Kitchen Remodel Fonda, Kitchen Remodel Amsterdam, and all the way to 518 Kitchen Remodel Fulton Country. Get in touch now.